amazon cLOUD END USER COMPUTING

MANAGED SERVICES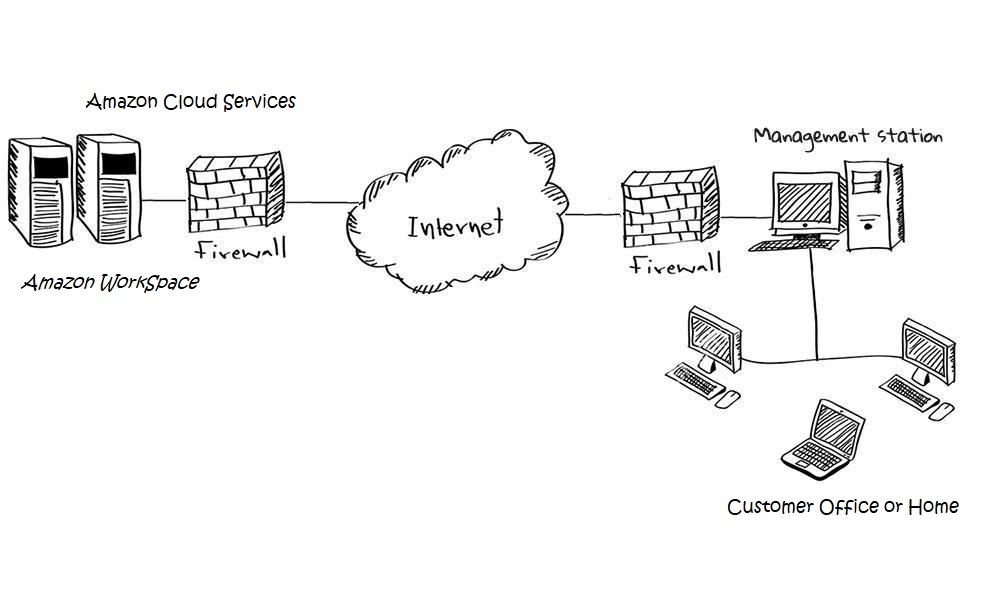 AMAZON WORKSPACE INITIAL INSTALL: Initial planning and installation of new services and applications.

AMAZON WORKSPACE CLOUD STRATEGY:

Amazons's strategy for organizations and choosing the best solution for your needs.

AMAZON WORKSPACE SECURITY:

Guidance in the implementation of the best security practices.


AMAZON WORKSPACE ADMINISTRATION:

Systems management and support.
Named Account Manager
for any business and Project related questions
Amazon Certified Engineers
available 24/7/365
Named Service Manager
for any technical questions
Managed Monitoring and Incident Response
What is Amazon Workspaces?
Amazon WorkSpaces is a managed, secure cloud desktop service.
You can use Amazon WorkSpaces to provision

Windows, Amazon Linux, or Ubuntu Linux desktops

in just a few minutes and quickly scale to provide thousands of desktops to workers across the globe.
You can pay either monthly or hourly just for the WorkSpaces you launch, which helps you save money compared to traditional desktops and on-premises Virtual Desktop Infrastructure (VDI) solutions.
Amazon WorkSpaces helps you eliminate the complexity of managing inventory, OS versions and patches, and VDI, which helps simplify your desktop delivery strategy.
With Amazon WorkSpaces, your users get a fast, responsive desktop of their choice, which they can access anywhere, anytime, from any supported device.
Why Amazon WorkSpaces?
The Amazon WorkSpaces solutions provide the right virtual workspace for varied worker types, especially hybrid and remote workers. Improve IT agility and maximize user experience, while only paying for the infrastructure that you use.
Benefits
Ensure business continuity - Ensure business continuity with a financially backed 99.9% uptime SLA.

Strengthen security

by storing user data on AWS instead of on vulnerable endpoint devices.
Scale on demand -

Scale on demand with fixed-rate pricing, no overprovisioning, and no upfront costs.

Maximize productivity -

Maximize remote worker productivity with high-performance, globally distributed infrastructure.
Business Use cases
Anyone working outside of the office

-

Speaks for itself here!

Businesses looking to spend less on physical machines for employees

-

Whether talking about physical devices in the office or at home, Amazon WorkSpaces doesn't require anything heavy-duty. You may like to do a cost-benefit analysis to see whether WorkSpaces could be a better fit than expensive office machines.

Employees who need to compute or graphics-heavy work remotely but don't have powerful machines

-

Because the compute and graphics work is done by Amazon's devices, remote employees don't need to worry about a home upgrade (and employers don't need to worry about buying/loaning new, expensive kit). GPU bundles are available specifically for people who need to do operations like CAD or video work.

Remote-work data security business needs

-

These devices don't store any company data on the device itself, so that you can feel more comfortable about your business's data security. Make sure to install antivirus software etc.

Facilitate remote work with streamlined onboarding

- Improve your remote worker productivity with secure access to virtual desktops from any supported device and location.

Access high-performance workstations on demand

-

Support compute-intensive workloads on high-end GPUs and CPUs with pay-as-you-go hourly billing.

Simplify VDI cloud migration -

Accelerate your journey to the cloud with consistent management and end-user experience across hybrid VDI deployments.

Run successful BYOD initiatives

-

Offer employees privacy and keep sensitive corporate data off of bring-your-own-device (BYOD) devices.